Share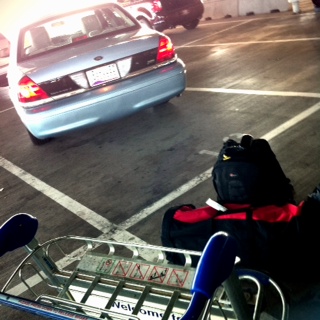 I flew into Phoenix on Friday for the annual University & College Designers Association Conference. When I picked up my rental car, I was informed that they "upgraded" me to the "premium car". Score. I was excited. I thought that meant something sporty and fun to drive. My car at home is a super practical and boring Corolla. I walked out to the line and found a Crown Victoria.
My first thought was how was I going to park this thing and how much gas would it drink? I was a bit grumpy. It's a car that's more often seen as a taxi, police car, or being driven between your condo and a shuffleboard tournament in Boca Raton. The car had an actual bench seat in the front. Does one person traveling alone need this much car? Oh, and did I tell you that it was sort of baby blue in color? Not sure of the Pantone number.
I quickly learned that people will always drive ten miles under the speed limit when you're behind them in a Crown Vic.
The hotel was in a suburban resort area north of the city. Most conference attendees took a shuttle or cab to get there. I had a car because I was staying at an offsite hotel a few miles away. People were limited to the hotel by their lack of transportation.
UCDA has a lot of Twitter users and I've found it to be a great resource during their conferences to hear other peoples' reflections on the presenters and information. I'm a fan of searching with hash tags. The conference iPhone app even had a built in twitter feed for hash tagged tweets.
I was still trying to figure out what to do with all of this car, and I'm not a big fan of dining alone… unless it's drive-through. Food is a social experience and should be shared. I met some people the first night at the opening chuckwagon bar-b-que, and I kept hearing them say that they had no way to leave the resort. The honored guest of the party was a friendly three-ton brahma bull named Frosty. He could have probably fit in the car.
The next day, I invited a couple of people from the night before out to dinner and I tweeted, "#UCDA rolling in the Crown Vic to dinner. Lot's of room. Join us". We filled the car.
A photographer and five designers in a Crown Vic is a lot like a circus clown car, but more creative. As we drove to the restaurant, someone took a survey and we had all seen the documentary "Helvetica". Uber nerdy. It was great evening out.
We all kept running into each other during the conference, eating meals together during the day, going out at night, and hanging out at the pool. One night, We actually chose a restaurant based solely on the great design and typography of their PDF menu we found online… St. Francis. Yum. The food was good too.
We made friendships that hopefully we'll be able to sustain through social media on Facebook and Twitter, even though we're spread out across the country. I love that we were able to build community online and then in the real world with a very large car.